The Etowah River in Dawson Forest section remains one of the best kayaking/canoeing trips in Georgia. It is everything you want in a day trip paddle. Scenic river bends, dense forest, sandy river banks, waterfalls, high rock faces, lots of wildlife, and yes even an Cold War era military base with underground labs. So this places is ideal for all levels of paddlers.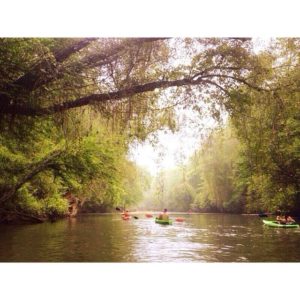 The trip is close to 10 miles, so it does require a bit of stamina when it comes to paddling. Mostly is takes around 4-5 hours. That does include a stop at a very scenic waterfall (Bear Foot Falls), which has a great area to have lunch and rest a bit. If you have good water shoes you can even climb the falls. There is also a hiking trail here if you want to take a short walk in the beautiful Dawson Forest.
So on Saturday February 3rd at 9:30am we will be paddling the Etowah River in the Dawson Forest section. Dress warm friends! Bring food, snacks, and beverage but make sure it is a small cooler. Storage is limited, so massive coolers. We will meet at Kelly Bridge Canoe and Kayak Launch. GPS is 34.353228, -84.206080. If you use an address use 5693 Kelly Bridge Rd, Dawsonville, GA 30534. Also Google Maps.
This is an large open grass field with plenty of parking. It is privately owned, but its always open for public…you just have to pay $3 for parking. There are no trash cans, so don't litter here! If you litter we'll send our bouncers to throw you out. There are changing rooms and bathrooms. You will want to leave a change of clothes in your car.
This is the end location of our kayak journey. From here we will transport in my car to the start location about 12 minute drive away. We should likely get started around 10:15 AM from River Park Kayak Launch. This is a public park with a great clean boat ramp. We will all be in a kayak with PFD (lifejacket) and paddle. If you have your own boat please come out and join us!
In order to reserve a kayak for this trip please call/text 678-920-3944 or email me at Scott@KayakGuyAtlanta.com. Thanks again and cheers!
If you haven't yet, please sign up for our newsletter to the right of this page and "like" us on Facebook. This allows me to keep you up to date on future events and happenings. Thanks so much and cheers!