This amazing trip took place in the scenic mountains of Blue Ridge, GA on the clear waters of the Toccoa River. The total distance of the trip was around 9 miles and takes close to 3 hours paddling. The perfect amount of time and distance…long enough to really enjoy and make it worth your time, but not so long that your butt goes numb from sitting in a kayak.
It has officially become one of the great paddles in Georgia. At least for me. I know it may a bit of a drive outside of Atlanta (1.5hrs) but it is well worth it if you have a full day to spend in the beautiful mountains of Blue Ridge.
The Toccoa River in this section is friendly to nearly all paddlers. It does have a few Class I+ rapids but overall very safe. We typically put in along the roadside above the Van Zandt Bridge. There isn't a lot of parking, but that works well because it keeps out the major rentals companies. So where we put in it is practically free of other kayakers and tubers.
The put-in launch location is in a calm pool just above some exciting small rapids. There is a string shoals that make sure to keep you interested and focused on the paddle. The water is shallow here so it will test your skills in navigating the river without getting hung up on the rocks. Maybe 20 minutes into your paddle we pass under the Van Zandt bridge off of Newport Road.
Here the scenery is farmland and there is a good chance you may be joined on the river by some cows getting their morning drink. It makes for a fun photo moment. The farmland continues for a while with a good section of calm and a chance to relax a bit and chat with folks.
Soon after the farmland you will see some of my favorite scenery on the trip. As you look downstream you can see the beautiful mountains in the background. I love it and make sure to get a shot of the amazing mountains and river.
This is where you start to plunge into the National Forest lands and it is gorgeous. The river banks are covered with Hemlocks and Mountain Laurel. The river speeds up here again, making you once again focus on the river and not banging into rocks.
About 4 miles into your trip you reach a place called Sandy Bottom Canoe and Boat launch. (See pic below) This is an idea spot to stop for lunch and take a swim in the river. It has plenty of shallow, calm water to pull your kayak up from the river. There is even some primitive campsites here. I have stayed overnight here and it is very nice and peaceful. There is a bathroom here too, which is a great strategic location after about 4-5 miles on the river paddling.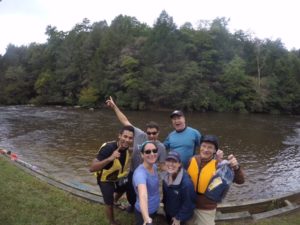 If you are a fisherman, this area is actually one of the very popular fly-fishing areas. The trout swim freely here…so I've been told. I love to fish, but I never have yet on the Toccoa River. But soon I will drop a line.
After you launch out from the Sandy Bottom campsite, the beautiful scenery continues. Laurel and hemlock are everywhere. About one mile downstream from Sandy Bottom you meet the largest rapid on the entire trip. It sounds worse than it really is, be sure to stay left of the island. There is a good drop in from the left side and it is an exciting set of rapids to challenge you a bit.
After this rapids you paddle under the Shallowford Bridge where there are some tube rentals that dot the shores. I love the bridge, its single lane with wood 2×4 planks to drive over. At dark they light up the bridge…its a pretty cool site. After you paddle around the bend below the bridge you will see a dock on the left. This is the nearly world famous Toccoa Riverside Restaurant. There is a place at the dock where you could tie up your kayaks and grab a bite.
Typically, we save the restaurant for after our kayak paddle, but I do like the food that they serve. From this point you have a very scenic 2 miles of cabin rentals placed on the water. The water stays fast until the end point but there really no rapids of interest. I always like to end our journey at a place called by the locals as "party rock". This is a very tricky Class 3 rapids. We pull the kayaks out above this rapids. But if there are some confident paddlers I always leave the option to shoot this rapids. We only have a 20% success rate at getting through them. But hey what is the fun in staying dry all the time.
Party Rock is a great place to be humbled. It doesn't look like a big rapid (and it isn't) but its a very tricky rapid that requires perfect placement in the water. This area normally has a lot of people because it is so close to the road near the Toccoa Riverside Restaurant.
So there you have it. The one of the most exciting and scenic kayak paddles in all of Georgia. That is, of course, according to me. If you know better I am open to suggestions. If you'd like to make the trip with me sometime and feel you are up for it…..let me know. Drop an email or call me. Cheers!