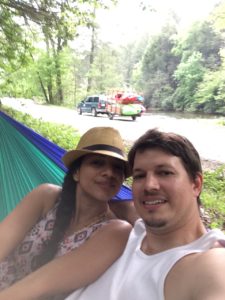 I'm Scott. I am a 36 year old dude from Roswell, Georgia who loves to kayak on the weekends and whenever I can. I used to work with a start-up software firm that was way to high stress and demanding and I found myself going kayaking as a way to relieve the stress levels and anxiety. It was a great therapy, I guess you could say.
I have since moved on from those days at working such a stressful job. I work from home now and create my own schedule and work hours. But the love of kayaking and my thirst for some outdoor adventure has remained. The metro Atlanta was loaded with great kayaking locations and I made sure to check them out when I had some time.
My Story
I grew up in central Pennsylvania in a small town called Millersburg. I was always the kid who was outside looking for the next big adventure or extreme sport. We built ramps for our bikes and sleds that, as I look back on it now, were enough to put some of the stunts on the show Jackass to shame. Anyway, somehow we survived those stunts with only a few broken bones and bruises. We didn't have a whole bunch of toys and tech gadgets then, so we made up our own fun.
My teenage and early 20's weren't much different. I joined the Navy for my next adventure. I was stationed at a great place in California with plenty to do outdoors. I took up new outdoor sports like rock climbing, mountain biking, skiing, and you name the activity I probably did it. That was fun and those years flew past and I made my exit from the West Coast after I got out of the Navy.
That was when I decided on moving to Alpharetta, Georgia. It was a random decision to move here but I had an old Navy buddy here and he said it was a cool place. So that was how I ended up here. I enrolled in college and used my GI Bill to pay for school. I had a couple jobs working for small software start-ups companies, none of which made it off the ground. When you have no other outlet for fun you become a miserable person. And it happened to me, and I was miserable.
I joined the corporate rut and its a terrible place. When you wake up and can't hardly get out of bed you know you need to get out. There were ugly times then and I will spare you the details. Luckily, the company went bust and I was let go. And best of it all I found a beautiful wife through the softball league I was part of. We recently got married in Madison, GA with close friends and family in attendance.
Life is good now, I now work for myself doing some internet marketing. I can make my own schedule and spend some time with my wife and dog.
Why Kayak Guy Atlanta?
I have some more free time now and I always loved taking people kayaking onto the rivers. I did with guests and family in town and I also got my wife to tag along with me. Kayak Guy Atlanta Tours and Rentals was started to give anyone willing an outlet for fun and adventure. If you feel the rut hitting you, call us up and set a date for a weekend trip down the river. Its amazing how water can be therapy to the soul.