This has easily become my favorite trips within driving distance of Atlanta.  I think it's the diversity of the trip that makes it so appealing.  The park starts with a nice safe and clean park not far from River View Middle School.  The put in has good sandy shores which make it a great point to drop the kayaks comfortably.
The entire 10 miles of the trip through the Dawsonville Forest is remote and free of visible homes and traffic.  So from the point you put in you get the feeling that you are away from most man-made activities.  The early mornings along this route are amazing. You will see wildlife but I think its just the peace and quiet you get that just sets the stage for the rest of the journey.
You meander through different types of scenery….from dense ferns and trees to open fields where you see the occasional abandoned train bridge.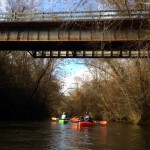 You can't get too distracted though because there are plenty of fallen trees and river obstacles that keep your attention.
I always tell the kayakers that join us to keep their attention downstream….but I think the scenery mesmerizes them and we've had a few spilled kayaks from not paying attention to the river.  There is never over a Class I rapid but the river is fairly swift. The fact that it is swift also adds to the appeal of this area. You never really have to exert too much paddle muscle to get where you need to go.
One of my favorite stopping points along the way is just over half way through the trip.  Around mile marker 18 you will see the Barefoot Falls.
It gives you a chance to stretch the legs and grab some food….all the while giving some nice scenery with the waterfall next to the Etowah River.  This also provides a great spot for some primitive camping. There is a fire ring and basic table but flat enough to allow for several tents if needed.  Oh if you are the fun loving adventurous type like myself you also can swing on the rope swing.  Its quite fun and lets us all play like a kid again.
So after you play around on the waterfalls and the rope swing, you hit the water again.  But don't get too comfortable because about 1/3 of a mile from Barefoot Falls you will hit the largest rapid of the route. It really isn't big (class II) but it sounds like a huge waterfall. In reality its not much but there are two ledges with some slight drop-offs. I like this area too because its a great picture moment. I like to go first then stop in the eddy, turn around and take pictures of everyone coming through the rapids.
The scenery continues to get better from this point. There are some large rock overhangs of the river which make for some good pictures as well. You may see the occasion horse since there are some horse riding trails here also.
The last stop of the route is near mile marker 21-22. It is only 1 mile from the finish but its tons of fun. There is a rock planted mid-river. You can go right or left but once you get below the rock the waters swirl back towards the rock.  It creates a great place to jump off the rock safely into deeper waters. But the current pulls you right back into the back side of the rock where it is shallow and calm.  You can then repeat the leap off the rock until your heart is content. I love it……and no pictures because you must come see it for yourself! Oh and this also provides for another spot for primitive camping if you choose.
I always tell everyone to get their fill of fun because after this rock there is only maybe 1 mile remaining in the kayak tour.  Its still very scenic and dense with trees.  Here is the only place that you will see a home along the entire route. The ending boat ramp is around mile marker 23.  It is good parking lot and they even have some changing rooms to get out of your wet clothes.  Parking is $3 per person but well worth it because its safe and clean.
So that is why I love the Etowah River and especially this section of the river. I hope to see some new faces out on this trip. If at any time you would like to enjoy this route….please let me know. (678 920 3944) or email (Scott@KayakGuyAtlanta.com) Just mention the Etowah River.  I love introducing new people to this river. You won't be disappointed!