I have now entered my 5th year as the Kayak Guy of Atlanta. A role that I have taken seriously. Each year I feel the need to find some of the best kayaking around. Oh and this year will be no different.
We will obviously be kayaking the Atlanta metro Chattahoochee. This is a great place to do some recreational kayaking and get the occasional light rapids and swimming holes. The Chattahoochee River is very scenic and very convenient and not to mention it's a right of passage for residents and visitors. Most people think of Atlanta for its city and urban activities, but do not realize the hidden gem that is the Chattahoochee River. There are 48 miles of National Parks in the metro Atlanta area with probably close to 15 parks with facilities. This makes the Chattahoochee River perfect for day trips for both locals and out-of-town visitors.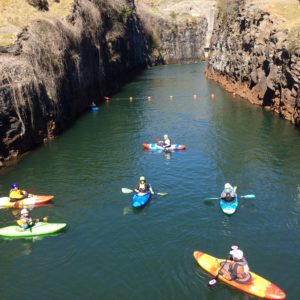 The next of our amazing "local" rivers….The Etowah River is one very scenic river that runs close to 170 miles total from Dahlonega, GA to Rome, GA. We have done several day trips on the Etowah River. The Etowah has it all…camping, scenic paddling, mining tunnels, waterfalls, gold, Indian artifacts and lots of wildlife. One of the plans this year is to kayak all 170 miles of the Etowah River. There are 16 sections that can be easily used for day trips. Most of these sections are safe for all skill levels so the Etowah has something for everyone.
It is also excellent for multi-day kayaking trips. There are several campsites that can be used for overnight stays. This season we are planning some kayak/camping along the Etowah River…likely a weekend two day event. Dawsonville Forest and Tunneling for Gold sections still remain the most popular ones. All you have to do is ask and we'll make a trip out of the Etowah.
The third river that is always a favorite kayak river for us…the Toccoa River. The Toccoa is a wonderfully scenic mountain stream. It offers a combination of primitive forest and open farmland paddling. I fell in love with the Toccoa last year and we spent many weekends running trips along Old Dial Rd. There are many campsites along the river so if you want to try your hand at camping this is the river for you. This river is a bit faster moving with some Class I & II rapids…so good to test your skills but still safe. The Toccoa River flows into Blue Ridge Lake then continues on into Tennessee where it become the Ocoee River. The Toccoa River is a "must" for paddlers and ranks as one of the best in my personal opinion. I have posted a blog so you can get an idea what to see on the Toccoa River. Its amazing!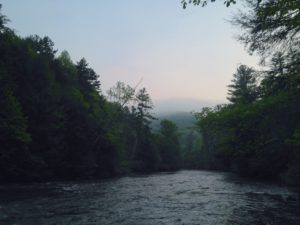 That covers the "Big Three" of our most traveled rivers. But we here at Kayak Guy Atlanta are not limited to where we can go. We've done trips on the Tennessee River in Chattanooga. This will be a place we return to this year. Also the Flint River remains largely unchartered for me…at least until this year. It is another river that will see plenty of trips this year. It also provides many sections that can be broken into day trips or multi-day trips.
The Tuckasegee River in North Carolina has always been a river on my paddling radar. This river is calm but provides some great scenery in the Smokies. This year we will visit it. If you want to stay close to Atlanta you obviously have the Chattahoochee River but Stone Mountain Lake also offers a unique paddle. Lake Lanier is a great lake to paddle as long as you stay close to shore…boats are big and fast up there. The Chestatee River offers a great alternative because you can paddle the river into Lake Lanier without worrying about the large powerboats.
I also want everyone to know, if you have a place you would like to go and I have not mentioned…by all means ask. We can customize a trip/tour for groups. I don't have a physical location, so I am mobile and bring the kayaks to you and also arrange for pickup and any other transportation. And don't forget…on nearly all of my trips I allow people to bring their own kayak. Its only a nominal fee of $10 if I transport your kayak on my trailer. And for those who rent from me, I keep my rates low ($35-$50 per trip) so you can bring family and friends along without breaking the bank.
I have a newsletter that I maintain with folks who are interested in kayaking or have already kayaked with me. You can sign up on every page of my website on the right side header. This allows me to notify you when I post an event or trip. Also go and like us on Facebook. Thanks so much and hope to see you on the river! Cheers!